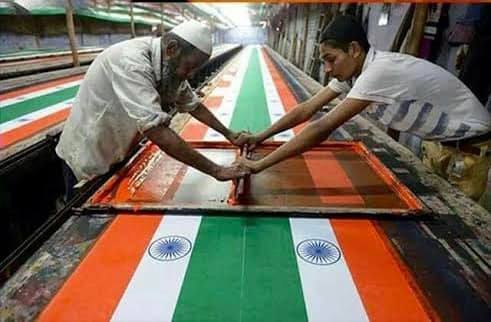 We would like to bring the following to your kind notice and request you all to kindly take it forward within your contacts, to the Govt, to the civil society, media and ensure logic and justice prevails.
The celebration of the 75th year of Independence is round the corner. while its a great matter of pride, culture and tradition of the Nation and a reminder of our Independence struggle, one can imagine that Indian National flags of all sizes will be flashed by citizens. We all know that the National flag has to be made and was always made in Khadi- from the days of our freedom struggle.
The National flags are produced in certain khadi sansthas in Karnataka. Karnataka Khadi Gramodyoga Samyukta Sangha is the only unit in India that is accredited to supply and manufacture the Flag of India. The prominent ones being those of the Hubballi Khadi federation, The Dharwad Seva Sangh, etc . They have been manufacturing all these years as per BIS norms.
The bunting khadi cloth of cotton hand spun and hand woven is processed by the khadi centre and stitched into flags. (as per the Flag code of India, 22nd june 1947:The National Flag of India shall be made of hand spun and hand woven wool/cotton/silk khadi bunting. ) It is indeed a matter of pride that production of these flags involve 1000s of khadi workers.
The central govt has recently allowed manufacturing and import of machine made Polyster national flags by amending the 2002 Flag code of India.
Meanwhile, the GOI through different arms has also been placing orders for flags made from mill cloth including synthetic to private parties (not to Khadi sansthas). As it is, the Indian national flag market is flooded with synthetic flags from China being sold in every nook and corner of the country. This has been a matter of serious concern for many years now.
There have also been some news that the cost of Khadi flags are being felt to be of higher cost and hence this move.The Khadi is made with many human hands, touching and empowering local economy and rural livelihoods. Even during the freedom struggle, when Mahatma Gandhiji pronounced his unwavering support to khadi and used Khadi as a strategic tool for the Independence struggle. Even then Khadi cloth was costlier than the imported mill made cloth, but we persisted as a nation and Khadi was sported by all people as a matter of pride and Nationalism.
It is important to note here that there are some private parties who are not associated with Khadi/workers have been given orders for manufacturing flags.
This means the sanctity, purity and the Gandhian principles are being ignored as well as the Khadi institutions are not protected or nurtured by our own Govts. This is coming just after the severe blow due to COVID19, the last 2 years, to hand made artisans and khadi sansthas.
There have been Khadi sansthas that have manufactured Khadi Indian National flags already for this 75th year and are stuck with the produced stock. The Govt must intervene and insist on Khadi flags and not promote any synthetic or mill produced flags or those produced by private parties.
This will help maintain the long standing tradition and also support and save the already struggling Khadi units.
It is also not out of place to recognise and recall another long standing problem, which was flagged by many organisations since early 2010, that is the use of Genetically Modified, Bt Cotton for manufacturing our Indian National flags. This itself is a huge loss of our sovereignty - that of Seed, Agricuture and the National flag. We wish, the Indian flags are produced only from our traditional Indian cotton- Desi cotton.
Our Primary demands:
Pl ensure the tradition of production of the Indian National flag ONLY by Khadi to be preserved and in Cotton/wool/silk and not synthetic or mill made.
Let the earmarked Khadi institutes be the only ones producing them like it was since our Freedom struggle. (at best let us involve more Khadi institutes if needed)
No private party to be promoted to produce or sell the Indian National flags.
Plan in advance (which means immediately as we have only 3-4 months to our 75th year of Independence day), place orders with advance or immediate payments to the Khadi sansthas producing the flags. Let the 75th year celebration be with handmade cotton flags of various sizes.
Finally, to ensure our seed/Agriculture sovereignty Let our National flags be made from our Indian traditional/Desi cotton and not the Genetically Modified, Bt cotton. We wish the GOI takes immediate cognisance of these and act prudently ensuring our National pride and tradition is restored.
Sincerely,
Concerned Citizens.
What can YOU do?
Pl write/mail/fax to the president and Prime Minister of India asking them to take back the amendment and disallow manufacture and import of polyester flags.( for PM: Connect@mygov.nic.in ; Phone No:+91-11-23012312 Fax:+91-11-23019545,23016857 )for President: presidentofindia@rb.nic.in ; pstopresident@rb.nic.in )

Tweet the message tagging the PMO ( @PMOIndia @narendramodi ) or the President of India (@rashtrapatibhvn) and the various political parties, their resp presidents, media, popular twitteraccounts and celebrities asking all of them to raise their voice and restore the old Flag Code.