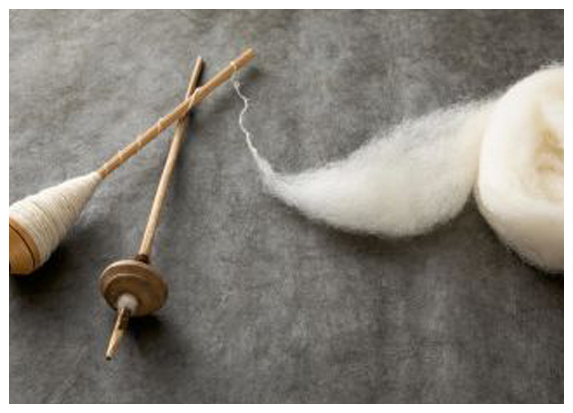 The beauty of handspun, handwoven textiles is in the texture and inherent inequality. It is like each piece is almost customized.
Hand spinning is an old form of twisting together fibers to form yarn that can then be used to create clothing. Yarn was spun by hand for thousands of years using tools that were simple.It was only during the Middle Ages, that the spinning wheel was introduced, which made making spinning yarns much easier. The tedious labor was performed by almost every household in society in talkli, desi charka, Amber charka etc. With the exception of silk, all other natural fibers are obtained in the form of staple fibers. Different types of tools and techniques are used to introduce the required number of turns per length into a spun yarn.
Characteristics of spun yarn vary according to the material used, fiber length and alignment, quantity of fiber used, and degree of twist
India has a glorious heritage of spinning fine count yarn, going up to fine counts of 500-1000 or above as in the case of the great muslin. Spinning is an activity which flourished in the villages mostly involving rural women. Till the onslaught of machine powered spinning (mill spun yarn ), handspinning remained a popular handicraft and livelihoods.
Handspinning offers a lot of flexibility and the only limitation is the creativity and skill of the spinner. The quality of Yarn determines the quality of the fabric. Yarn count is an important index to distinguish the fineness of different yarns. Yarn count is the degree of yarn thickness. Skilled spinners can spin fine yarn counts from even very short staple cotton. Our native variety cotton, is short-staple cotton.